Variety of programs and courses
Having no constraints over physical infrastructure, UET online courses offer a variety of options for students, meaning no matter what students wish to study, from fashion to space science, they will find related online courses or degree programs from a career certificate to a doctorate.
Convenience and Flexibility
UET Online courses give students the opportunity to plan their study and work simultaneously, making it a good option for students who need to balance their work and family commitments. Course material being available online, there's no need to go to a library either.
Career advancement
Students can take UET online courses to complete entire degrees while working, while in-between jobs, or while taking time to raise a family. Moreover, learning while earning creates an impression of one's being ambitious, hardworking with ability to taking challenges.
Transfer credits
Credits earn during online studies are now transferable to other courses and most of the institutions accept them. Students studying online while working during summer vacations, may transfer credits earned to regular courses.
Vision and Mission
Here you can review some statistics about our Education Center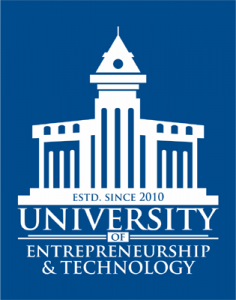 Vision
"to be a world class institution that builds individuals with entrepreneurial creditability for indigenous natural endowment development."
Mission
"Incorporate efficiency and commitment through robust research and technology."
Core Values
Leadership

Integrity

Professionalism

Excellence

Initiative

Innovation

Passion

Commitment

Complementary
STAY TUNED

WITH US

Subscribe now and receive weekly newsletter with educational materials, new courses, interesting posts, popular books and much more!
Courses and Programs & Academic Departments

"I am very pleased with the quality of the programs offered by UET. The quality is worth so much more when compared to the tuition cost. The instructors are extremely knowledgeable and helpful during the entire length of the course. Thank you for offering such great programs to students."

"University of Entrepreneurship & Technology was the perfect choice for me. It provided me with the opportunity to take accelerated studies in education without having to commit to a time-consuming on-site degree program. The degree programs are ideal for working professionals who do not have time or the financial resources to attend classes at a physical campus program. I am glad I made the decision to join UET."

"The academic and professional degree options offered by UET helped make the transition to an International University seamless for me. The process is not difficult and the affordability of the degree programs offered by UET is the best I have found when I researched the Internet for quality programs. The programs courses I participated in prepared me for what lies ahead as a professional MBA career."

"My life has changed because of the UET Graduate Program. I was in another a profession in my home country, but upon moving to South Korea, it didn't look like I would be able to continue in my professional field. In two degree programs with UET, my professional and academic skills improved a great deal in addition to receiving my advanced degrees. My dream of competing within global education is going to be realized because of this program."

"Making the decision to study as an international student with UET was not an easy choice, I am glad I decided to do it. The online training program I chose made my transition easier, and overall, I felt like I became part of a new world of learning. During each online course, I met a number of students from all over the world as I interacted with them in the online environment. UET was able to match me with a highly qualified professor in each course, who helped me to improve my research skills and gain more professional confidence. All of the UET faculty, administrators and staff are kind and helpful. UET is a great option, if you really want to get an edge up on global education, and they are also helpful in providing options for students if you want to pass the TOEIC or TOEFL exam. It's your first big step towards your brighter future in the global arena."

Robert
CEO & Founder - UK
"When I first applied to UET in 2010, I was surprised and pleased by the differences between the study platform I was introduced to and those I had experienced in the past. Study in my training program gave me the satisfaction of being a part of what they call "The UET Community." After completing each portion of my training program, I noticed a lot fundamental changes in writing, research, and professional and academic skills. On top of that, UET dramatically improved my ability to provide a quality assessment of critical needs for global education over the period of study. I'm pleased with what I have learned as a student of UET, and I am sure I will use this experience in my future endeavors."
Our Esteemed Global Alliance, Partners & Affiliates